DSTRCT Amsterdam
Live Light had the opportunity to furnish 7 luxury apartments from DSTRCT, all located at "Singel" Amsterdam, situated in two historic neighboring townhouses.

A wonderful project where the authenticity of the building has been well preserved and translated to the furniture. Have a look at the final result of this staging project.
EXPLORE MORE PROJECTS
Project Singel 326
DSTRCT
 is the future of buying, selling, and renting out unique Amsterdam-based homes. Every apartment or house breathes quality and always showcases an appreciation for design and beauty. 
Singel 326 consists of seven luxury apartments that are fully renovated to the highest level. The apartments all have its original features including built-in benches and French windows overlooking the canal. DSTRCT partnered up with Live Light to stage the homes, keeping in mind the authenticity of the apartments. By embracing the concept of renting furniture, DSTRCT seamlessly integrates Live Light's expertise. Singel 326's seven elegant apartments, thoughtfully staged with rented furnishings, echo authenticity while embracing contemporary living. 
The results are beautiful, spacious apartments that exude a warm, relaxing vibe. Natural shades colour the interior and give the apartments an organic, homey look. Discover curves and smooth lines in the furniture DSTRCT selected for the Singel 326 apartments.


Discover their furniture picks


Magnificent views
The Singel used to be one of Amsterdam's original canals. Nowadays, it is a regularly visited street with numerous monumental houses and impressive canal views, you couldn't be more centrally located in bustling Amsterdam or the so-called "Venice of the North".
The early 18th-century property has been beautifully renovated, so it comes as no surprise. Singel 326 is listed as a National Monument thanks to its particularly breath-taking curved frame-shaped pediment.
As expected from a traditional Amsterdam townhouse, the entrance is wonderfully grand, with a high ceiling and stunning marble detailing along the walls leading to the apartments.
The tasteful monochrome décor throughout emphasises the historical characteristics with exposed beams and the original hooks, pulleys, and wheels. We couldn't agree more that the timeless interior by Live Light and the authenticity of the old townhouse is a match made in heaven.
Life in Amsterdam
Amsterdam is a full-blown fairy tale, from its scenic canals and bridges to its historic homes. In fact, Amsterdam city has the highest number of national heritage buildings, thriving cultural attractions, and gorgeous canals that enchant tourists and locals. The brightly-coloured bicycles and tulip stands around town don't hurt either.
You can go for a boat tour on the canals, stroll (or bike, or even roller-skate) through Vondelpark, and go shopping in the inner city. You might even want to linger in the local coffee shops, which are just a normal part of the city's landscape.
We wouldn't say no to living in this vibrant capital city, especially in such cosy apartments!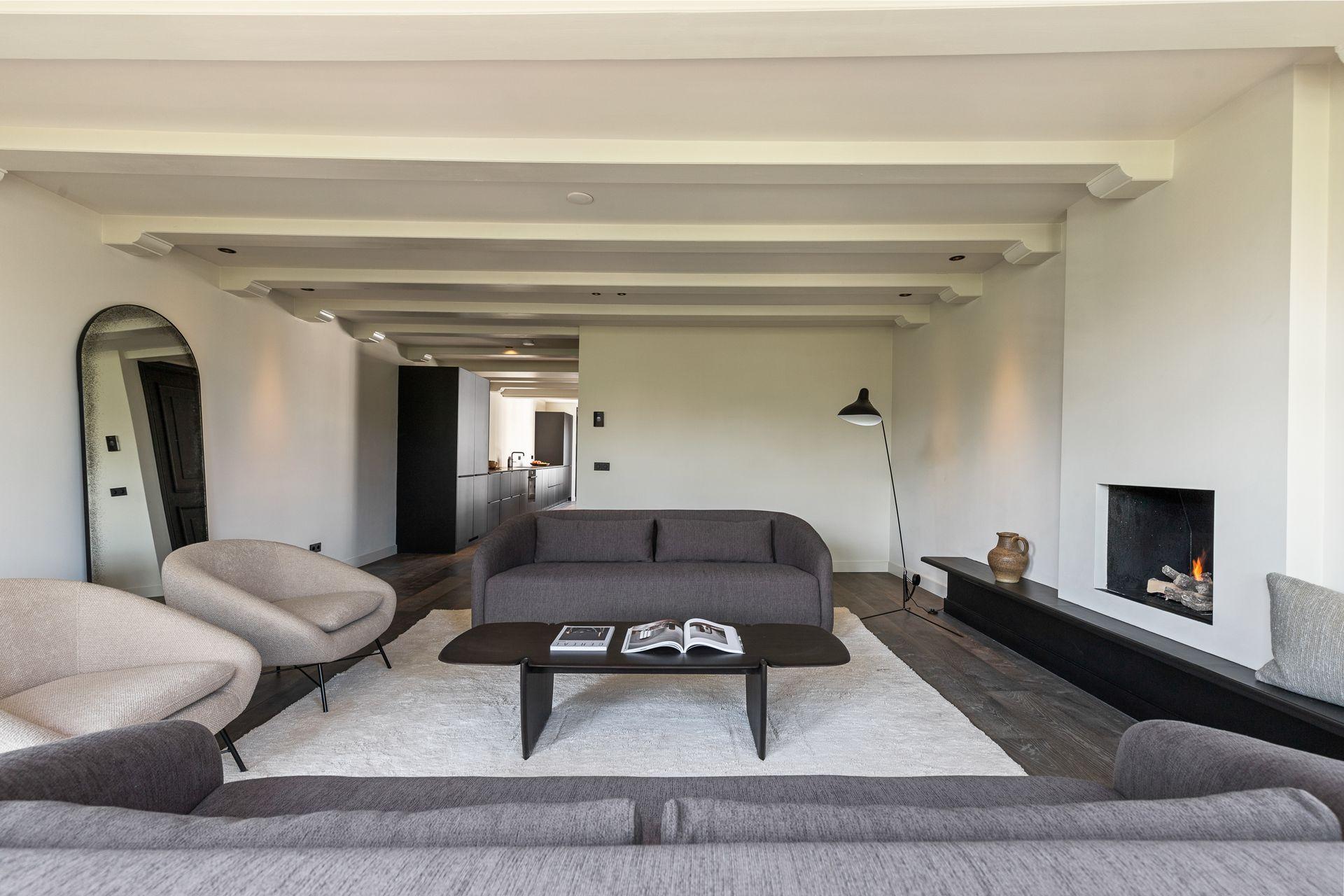 Live Light offers flexible and sustainable furniture rental options, catering to real estate staging needs for both short-term and extended periods. From staging houses to apartments, our services provide effortless solutions with timeless designs adaptable for periods ranging from one month to 48 months.