Home tour: Interior designer Anne-Claire Martens


We had the honour of meeting interior designer, keynote speaker and photographer Anne-Claire Martens, at her historic home in Den Bosch. This ambitious young woman is specialised in sustainability in the interior design industry. She is launching her own platform, "For the Love of Art," to give European craftmanship the attention it deserves. She has published a guide, "Kleine Gids, Grote Impact," about sustainable interior brands. When Martens isn't working towards a sustainable future in interior design, she likes to spend her free time reading, walking and engaging in good conversation. She is spirited, a dreamer and a freethinker in heart and soul. In her own words: "An introvert but finding her strength on a stage, sociable but loves her alone time." 

A townho
use with history
We meet Martens in her pristine townhouse built in 1912 in one of the oldest neighbourhoods in Den Bosch. She and her partner looked for a long time to find a house with character that didn't need too much renovation. After three years, they finally found their dream house. Spacious, almost imposing on the ground floor and small and cosy on the upper floors. Now she has her own studio within her home, which was a lifelong dream. The location of their home is ideal, as it's a five-minute walk from the city centre and a 10-minute walk from the woods. The big challenge is making the house more sustainable, but she calls it a "fun challenge."
The living room is a place where Martens can leisurely entertain her friends with food, good wine and deep conversation. Listening to emotive music, talking about the hard things in life and ending the night with laughter. Besides that, "I am in love with my bedroom," she says. She describes it as a place with a calm and soothing atmosphere.
The essence of an honest product


How did Martens' love for interior design and sustainability begin? "The idea originally came from my father," she said. According to Martens, he taught her to appreciate timeless design and fine craftsmanship. She told an anecdote about her father buying expensive design items for which he had saved for a long time. Now, these four unique design chairs are in her home, and she appreciates and enjoys them every day. "This is the essence of an honest product, and I wonder if I can pass on these values to the next generation," she said. 

Martens believes that every house is different, and designing your interior is more than simply choosing nice furniture. She explained, "It all has to do with energy, and this can't be captured in a step-by-step plan. In any case, take your time to feel what suits you. Your home is allowed to grow, and it does not have to be done all at once or following the latest trends. Take advantage of the new sustainable developments out there. Companies like Live Light are there for a reason! Renting furniture has never been easier. And finally, have fun thinking about it. If your energy is good in the process, the result will radiate that. Just have fun!" 

When asked where she gets her inspiration from, Martens answers that she draws inspiration from all kinds of things such as the colours of the forest, a beautiful movie, museums or coffee at her favourite coffee place. In her own words: "Inspiration is all around us." 


In regards to her personal style, Martens says she doesn't think she has one. She likes to surround herself with stories, items from her travels and heirlooms. She describes it as a mix between Mid-Century design, worldly objects, natural materials and eclectic vintage items. "A true mishmash."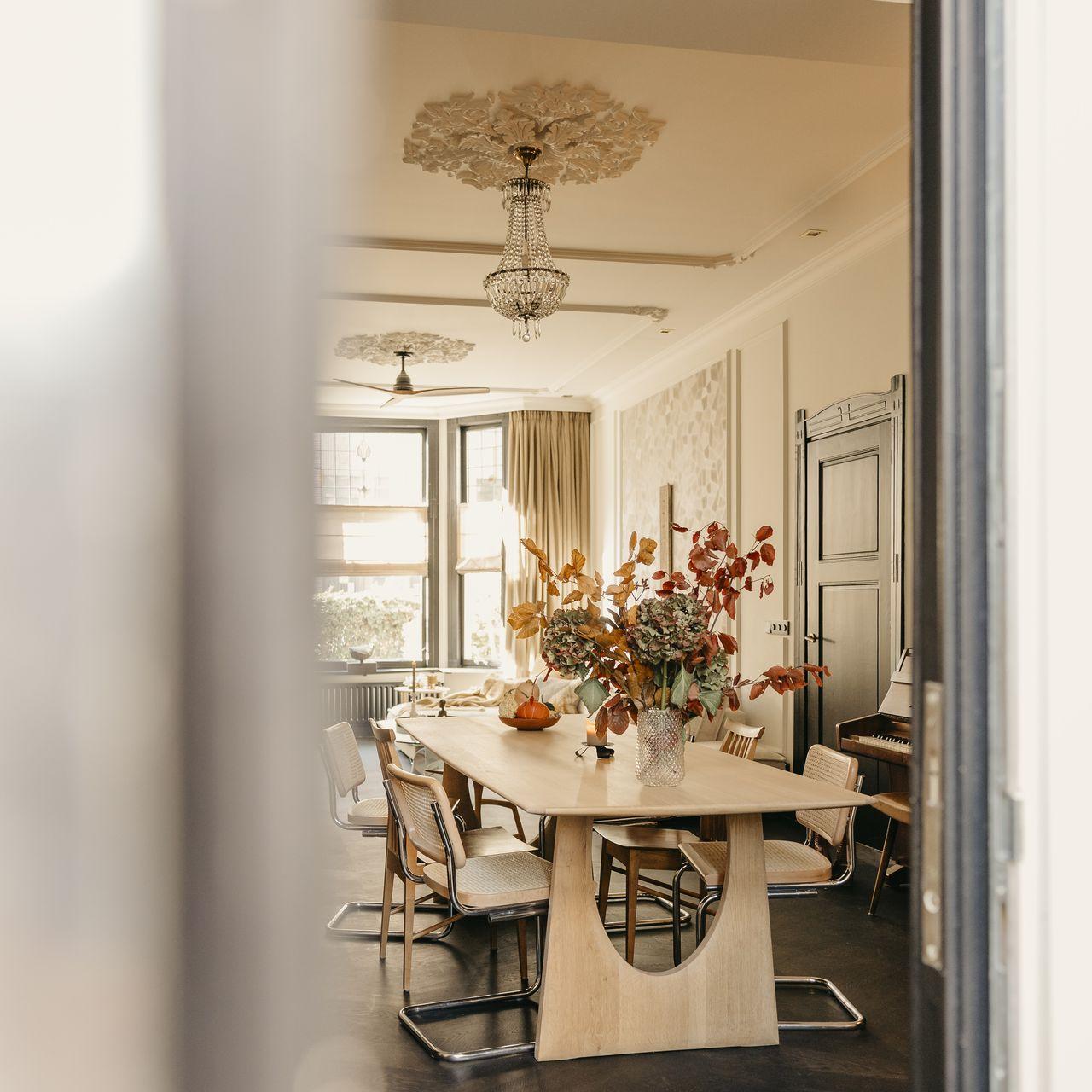 "A home is a place to let go, where you feel safe,
and a place where your personality and story resonates in everything."
- Anne-Claire Martens
The furniture industry and its impact on the climate

Martens recently published her own book, "Small Guide, Big impact," telling a disturbing but true story about the furniture industry. In the book she mentions the need for consciousness, not only in fashion and food, but also in your own interior. The movement starts from within, and everything you consume can have an impact on climate change. Luckily there are some beautiful initiatives and brands trying to make their production process as sustainable as possible. Martens bundled 78 honest brand tips regarding your bedroom, furniture, paint, accessories and lighting. The book is a combination of tips, stories and shocking facts because she believes that shocking is necessary. "It's not always fun and games. The time to be better for yourself and the Earth, is now!" she said.  

Eleven billion tons of furniture waste are deposed of every year. Surprisingly, the quality of the furniture used to be way better, but we often make the mistake of thinking something new is better. The opposite is true, a fast furniture piece lasts an average of 7 years. Second hand is more economical, has a better quality and a smaller carbon footprint. 


When we ask her on how to make the planet healthier, Martens believes that the core of a healthy planet is love. "If something is done with the right intention, it can be enjoyed and loved longer." Whether it is about being kind to each other, taking care of nature, wishing each other happiness, or buying pieces made with thought and precision, "such a cliché, but the core is love."  
"It's not always fun and games. The time to be better
for yourself and the earth, is now!"
- Anne-Claire Martens
To conclude, Martens offers tips to live by:


1. Always go for quality above quantity.
2. Rent or buy real craftmanship — don't follow the trends.
3. Before you throw something away, check whether you can recycle it.
The choice of Anne-Claire: